Indulge your love in Mysterious Rishikesh – India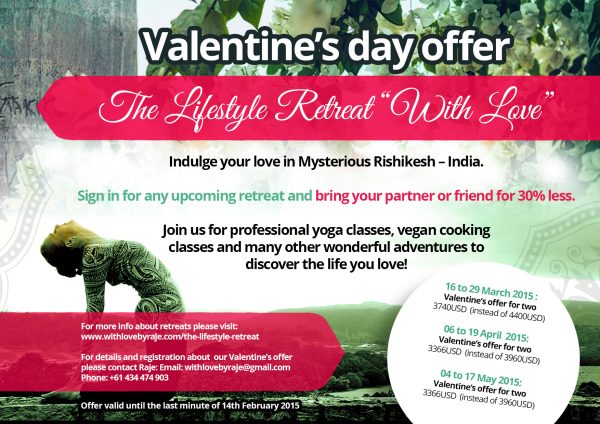 Sign in for any upcoming retreat and bring your partner or friend for 30% less
Join us for professional yoga classes, vegan cooking classes and many other wonderful adventures to discover the life you love!
For more info about retreats please visit: http://withlovebyraje.com/the-lifestyle-retreat/
For details and registration about our Valentine's offer please contact Raje:
Email: withlovebyraje@gmail.com Phone: +61 434 474 903
16 to 29 March 2015 : Valentine's offer for two – 3740USD (instead of 4400USD)
6 to 19 April 2015: Valentine's offer for two – 3366USD (instead of 3960USD)
4 to 17 May 2015: Valentine's offer for two – 3366USD (instead of 3960USD)
Offer valid until the last minute of 14th February 2015
For all my wonderful Saturday's yogis…and not only 🙂 Here is the recipe for easy, fluffy, vegan mango cake. Enjoy and have a wonderful afternoon!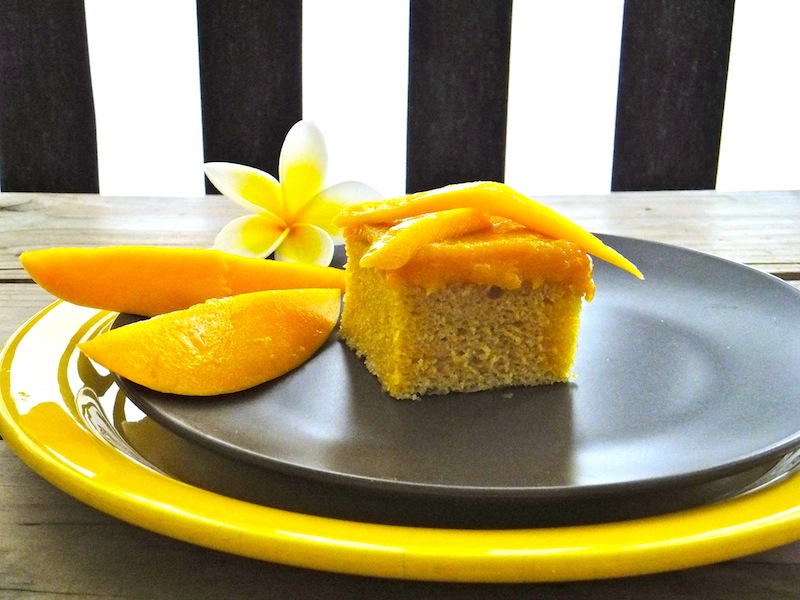 500mL plain flour
3 1⁄2 tsp (flat) baking powder
300mL sugar
2 TBL spoon vanilla essence
140mL sunflower oil
1 mango (peeled and chopped)
500 – 550mL warm orange juice
Baking tray (size 38cm x 28cm)
For topping:
2 peeled and chopped mangos
1 cup of macadamia milk/or any type of vegan milk
1/3 cup of sugar
2 TBL spoon of rice flour
Preheat the oven to 180°C. Place 500mL of plain flour into a measuring cup, and delicately hit the cup on a hard surface to remove the air in the flour. Usually this will reduce the volume from 600mL down to even 400mL. Add more flour and repeat this until you get the real 500mL of flour. Now add the baking powder to it and sift it into a medium sized mixing bowl. Add the sugar and mix the dry ingredients. Add the oil, vanilla, and warm orange juice blended with mango (smooth). Whisk it until it becomes a very smooth, quite thin batter (consistency of natural yoghurt, little thin). If too thick add a bit more of orange juice. Poor it into baking tray. It is best to line a baking tray with baking paper so the sponge will be easy to remove after baking. I recommend avoiding opening the oven during the first 15 minutes of baking.
Bake for about 25  – 30min. Afetr 25 min please take a fork, a cocktail stick, a skewer or a toothpick. Use one of these items to poke the top of the cake slightly in the middle. You will know whether or not the cake is ready by seeing:
·       If it comes up with some wet batter, crumbs or stickiness on it, the cake needs to bake some more.
·       If it is dry, then the cake is done.
Remove from the oven and cool it down.
When the sponge is done, place into the blender:
2 peeled and chopped mangos
1  cup of macadamia milk/or any type of vegan milk
1/3 cup of sugar
2 Tbls rice flour
Blend it until smooth. When your pulp is ready, pour it into small pot and bring it to boil, constantly mixing. Spread it allover your mango sponge and cool it down before serving.
You can decorate it with fresh mango.
Goodluck !
If you wish to learn more tricks on how to make vegan deliciousness, vegan cruelty-free organic cosmetics – along with therapeutic yoga practise, please join us for upcoming "The Lifestyle Retreat With Love" – all in the beautiful surrounds of Rishikesh, India.
For more info visit :
http://withlovebyraje.com/the-lifestyle-retreat/
Warm Regards
Raje